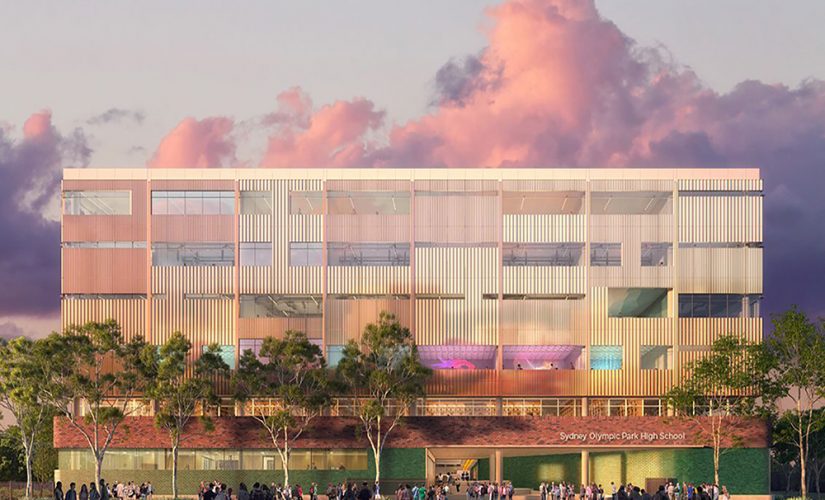 The first designs have been unveiled for a new high school that will be built on a former intertidal mudflat area at Sydney Olympic Park.
Designed by high-profile architects Woods Bagot, the Sydney Olympic Park high school will sit on Wangal land towards the northern tip of Wentworth Point, on the southern bank of the Parramatta River. The project will be delivered in two stages, the first catering to 850 students and the second expanding the student body to 1,530. Classrooms will be accommodated within a single six-storey building while a hall for sport and performance is proposed to the north of the site.
Land Rezoned to Accommodate Rapid Population Growth
The need for a new high school is an example of the rapid population growth in what was once an industrial area, with much of the local land in Wentworth Point now rezoned for residential purposes. MPN is currently part of the development team for private property group City Freeholds, who are in the process of transforming an active industrial location at Wentworth Point into a masterplanned residential community. Read the following articles on this site:
An Industrial Location Transformed into a Residential Community
City Freehold Appoints MPN at Wentworth Point.
A State-Significant Development
A state-significant development application has been submitted for both stages of the school development. Planning documents note that there will be enough open play space within the school's site to cater for the students in the first stage, but that there will likely need to be additional play space found once all 1,530 students are at the school. An 8,800 square metre play space is proposed next to the school, opening onto the planned four-hectare Wentworth Point Peninsula Park.
Resources:
Architecture Australia – 1/11/21
The Urban Developer – 2/11/21