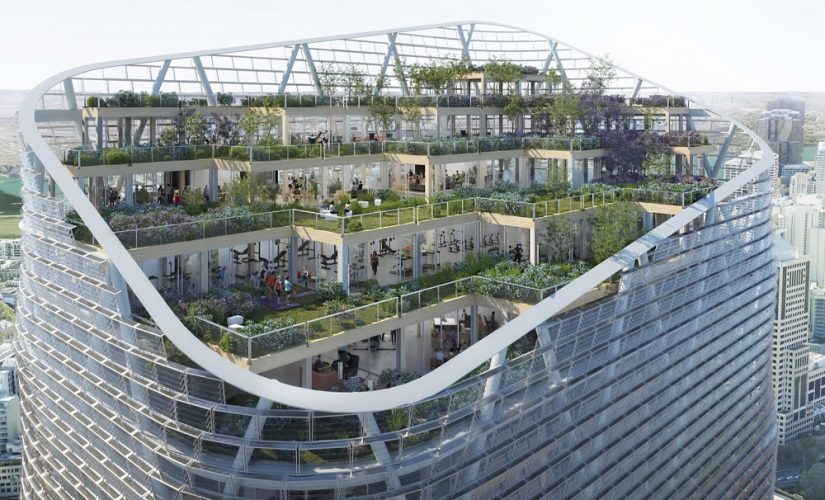 ASX listed developer and MPN client Dexus announced it is to build the world's tallest Hybrid Timber Tower within Sydney's new Tech Central Precinct. Jointly owned with tech unicorn Atlassian, the innovative 40 storey building will house Atlassian's Sydney headquarters with upwards of 5,000 staff upon completion.
The $1.4 billion project will revitalise the existing YHA site, incorporating it into the lower levels of the building, with retail space and a new public realm around Central Station.
Designed by New York-based architects SHoP with Australian practice BVN as the design team, the sleek timber tower is blended with a glass and steel facade, creating a honeycomb-like effect interwoven with large planted terraces.
The project has plenty of natural ventilation and will feature solar panels in the vertical facades to generate green power on site. The Atlassian group founded by Scott Farquhar and Mike Cannon-Brookes expects the building will require 50 per cent less energy consumption compared to a conventional building.
"This unique project will catalyse Sydney's innovation and technology precinct, Tech Central and set a new global benchmark in sustainability and smart workplace that challenges the status quo," said Dexus chief investment officer Ross Du Vernet.
Tech Central
The NSW government's Tech Central will eventually cover six neighbourhoods including Haymarket, Surry Hills, Ultimo, Redfern, Chippendale and Eveleigh, and will include over 250,000 square metres of new office space earmarked for technology and innovation businesses.
In August last year the state government gave the green light to significantly increase the building heights in the area.
Further Reading
> MPN – Building Taller with Timber 4/3/22
> Business News Australia 23/3/22
> Sydney Morning Herald 30/3/22